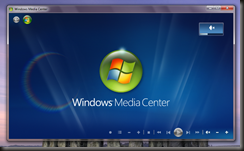 I did an in-place upgrade of our living room media centre to the Windows 7 RC last weekend. I was a bit hesitant, not least because it's our main TV and therefore has to have a high wife-acceptance-factor (WAF>90). I had updated to Vista TV Pack a few weeks ago and found some issues with reception of a few channels (C4 mostly) so I felt that things probably couldn't be any worse.
The upgrade went amazingly smoothly and things pretty much "just worked". I had to update my network card drivers as they blue screened on standby, but they were 2 years old. The iMon LCD display also doesn't work as their app crashes on startup. I presume an updated version will emerge sooner or later.
But, down to the good bits:
– If you hadn't already gone to Vista TV Pack, then you'll get interactive ("red button") on DVB-T and subtitles.
– Speaking of subs, when you mute media centre, subs get turned on automatically. Neat.
– TV quality looks better, a bit sharper perhaps.
– I love the new screensaver of your favourite pics / cover art when TV is paused or stopped.
– In the guide, hold down the arrow keys and you'll super-speed through the days.
– The now/next mini guide is much improved for browsing around channels.
– The new movies section automatically categorises and grabs cover art for any movies you record from TV or play back via DVD.
The only thing I don't like is the media centre startup noise. It sounds like Fox News' jingle or some American anthem. At least you don't have to hear it that often.